By nature of my work, I am lucky enough to spend a substantial amount of time over and in the Pacific Ocean. There are few types of aviation that evoke the flights expeditionary roots as driving prop aircraft over thousands of miles of ocean to visit tiny atolls and islands. Annually, a cumulative week or two of my time is spent on Oahu which is the first offshore stop on our way to the Western Pacific rim; we often overnight or reset our circadian clocks for a day in Waikiki. (Please remember these are propeller driven aircraft flying low and slow through the weather; they are loud and filthy and rattle you to the core for hours on end.)
Waikiki is a conundrum, walk past all the high end Burberry, Rolex and Coach boutiques lining Kalakaua Ave, ignore every surf industry anchor store you can name, resist the temptation of a million different restaurants, bakeries, coffee shops and an ABC store on every corner, hook a right after the Moana Surfrider and you can still find the paradise of surfing's (at least in the modern era) birth place. Beautiful, warm, gentle waves, a beach boy who will rent you a board with no questions, no waiver and no PFD, and a leathery Vietnam Vet surf instructor who talks story of the Duke and for whom Rell was a sister.
For all of its consumer metropolis catering to hordes of Japanese tourists, Waikiki still retains its seedier heritage as a military R&R spot. A block off the main drag tattoo shops and bars abound, the police sweep the streets clean of drunks and prostitutes at 0200, and if a military age male stands in one place long enough, he will be propositioned by at least one of these working girls and a drug dealer or two.
But it was just one more block over on the Ala Wai canal that I fell in love with "Town."
I had been paddling a surf ski for about two seasons. For the un-initiated, once you learn to sit in the craft and not immediately fall off, you must grapple with the highly technical nature of the articulated wing paddle that is used to propel a ski. Like swimming, there is a very distinct relationship between effort, technique and speed when it comes to the foreword paddle stroke. A neophyte swimmer often jumps in a pool for the first time to bang out 1000 meters only to find themselves completely gassed after one lap; likewise the beginning paddler will be astounded at how quickly and almost effortlessly his more experienced mates leave him flailing in their wake. On your own, progress can be awkward, exhausting and very slow, average speed creeping up at a snails pace if at all.
I found myself at a particular plateau. I had done everything right. I had started out in a wide stable ski. I had spent countless hours on flat water, interspersed with beatings in the surf. I had learned to stay loose in heavy conditions, and I had developed a bulletproof remount. But having just moved up into an "elite boat," my speed gains were not as magical as I thought they would be after dropping 10lbs of boat weight and 4" of hull width.
I jogged along the Ala Wai canal in the evening as I often did to atone for the traditional night out with my aircrew mates. A lone figure stood on the launching ramps of one of the community outrigger canoe clubs talking to several teens who looked up from K1 sprint kayaks floating in the water below. Broad shouldered, and authoritative, it was apparent he was their coach, and what was more, a few of the kids were in ski's! I knew that skis had a history in the Islands -- the annual Molokai channel crossing race finishing just the other side of Diamond Head -- but I had searched in vain for available boats on Oahu. The beach boys had looked at me incredulously when I had inquired about renting a ski. If I was not mistaken, the coach was a pro, Molokai veteran Zsolt Szadovski.
When anybody gets into performance paddling, REALLY into performance paddling, they are apt to spend a huge amount of time searching the web for video clips of good paddling. Paddling fast can look very different from individual to individual, but if you look carefully, the same fundamentals are always there in a fast stroke. It wasn't ideal, but with the relatively undeveloped state of ski paddling in the continental US back then, watching video of others was really the only model I had; there were not a whole passel of club racers or pros at home for me to chase. It was during one late night YouTube session that I found the form that served as my first model. It was a five minute film by Jason LaBranch of a loan paddler in a ski paddling around the San Francisco Bay. The film was well edited and the form was clean, smooth and powerful.
Zsolt had grown up racing K1 in Hungary, where flat water kayak racing is huge. A top level professional paddler and olympic hopeful, he had barely missed the 2000 Olympic team and had eventually found his way to OC6 paddling in the San Francisco area, then back into the skinny boats out in Hawaii where his knowledge of paddling, a passion for the island culture and support from Epic Kayaks had landed him a position as coach of a group of very motivated, athletic kids of the Hawaii Canoe Kayak Team. Here at the club house they have a small area to lock up their boats and twice a day they gather to work out and be guided by Zsolt.
I Introduced myself, and when the he replied with a Eastern European accent and slight island undertones, I knew I had found the possessor of that form I had been watching. I enquired about a few tips and how I could get in to boat on these legendary waters. The reply: "tomorrow seven a.m." I jogged back to the hotel and went to directly to bed.
I had slept through allot of Waikiki dawns, but not this one, and as I sat on the picnic tables drinking an exceptional cup of coffee, something in me moved in the warm tropical morning. The outrigger canoe kids were the first to show up at the club. Drifting towards the club house in groups of twos and threes from bus stops or out of the backs of old pickup trucks, they conversed freely, carrying paddles the way suburban junior high kids back on the mainland carry lacrosse sticks. It was when the coaches gathered and focused their youth into crews that slid the heavy six man canoes into the water, gliding away and calling the sing song chant of the paddle stroke, their small frames tiny in the big canoes, that I felt a piece of my heart leave with them. Zsolt's kids arrived next, older, lithe, their backs and arms sculpted by determination, endeavor and drills. They waited quietly while he unlocked the gate to the kayak racks, and with few hushed words they one by one put in and left the shore. As I watched these kids stretch out into the smooth morning water I saw in each of them, large and small, boy or girl, that same limber relaxed stroke that had captivated me. I had fallen in love with these kids, their austere boathouse, and this city park on a waterway where the signs caution against swimming or eating the fish.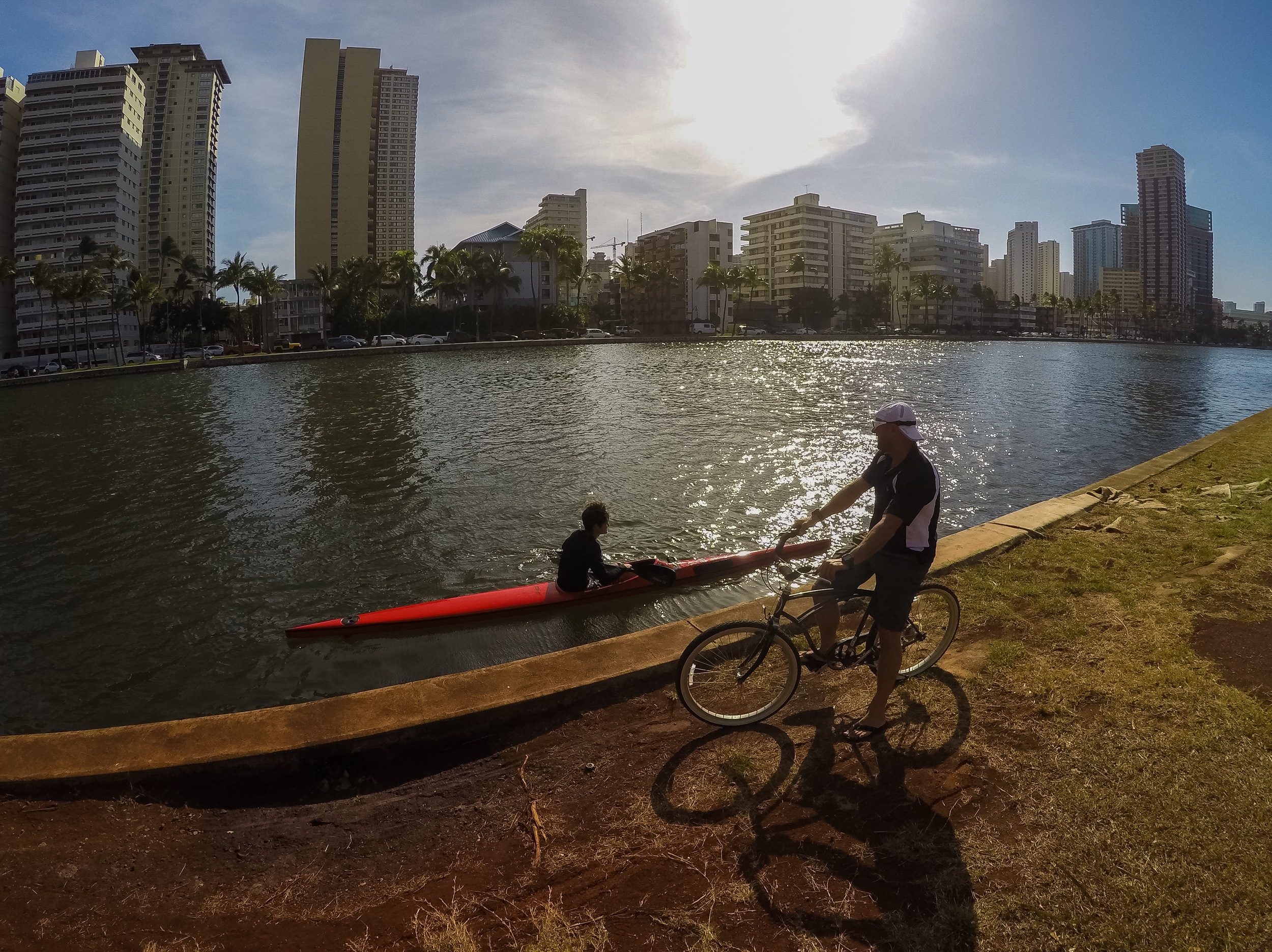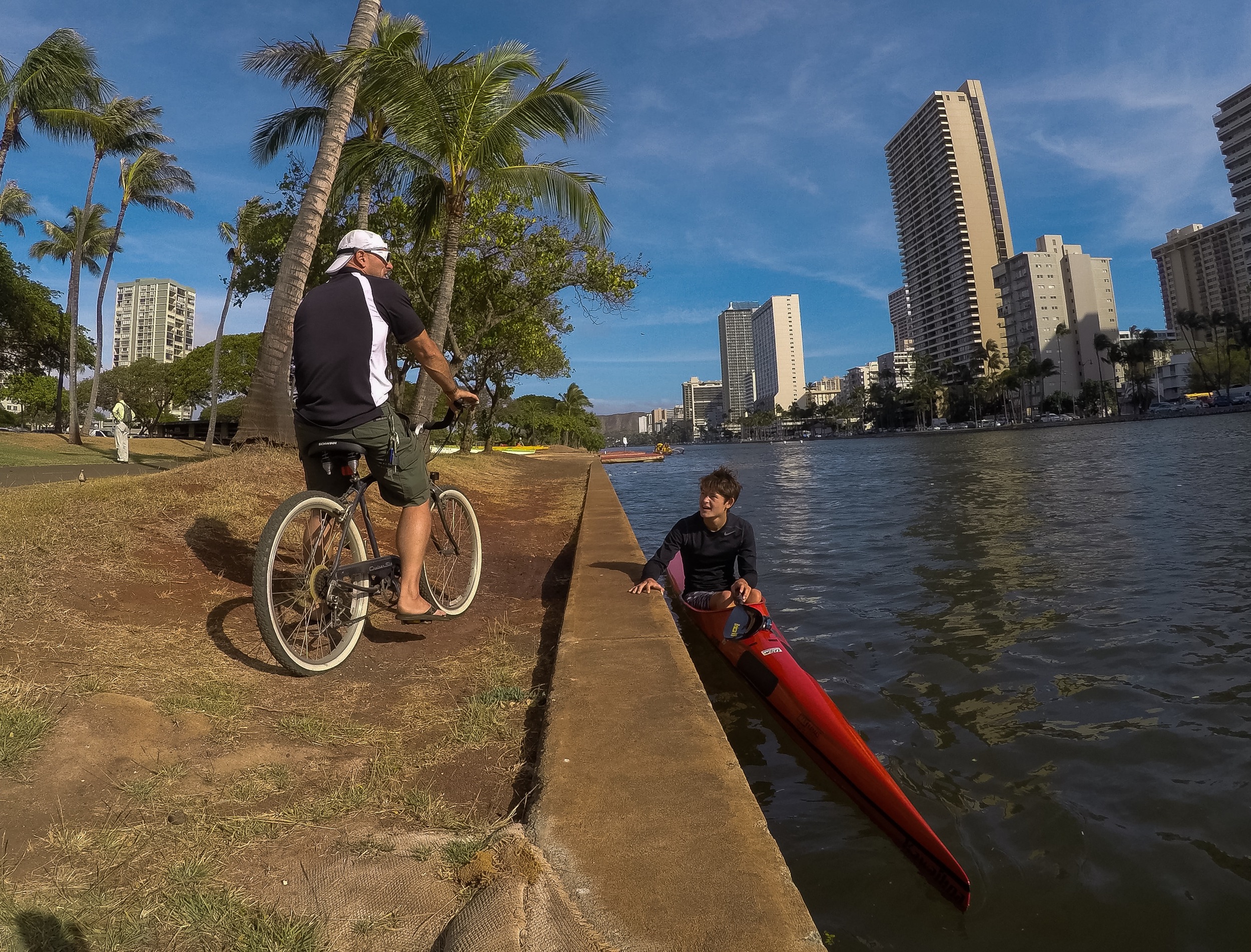 "Peeta, your ski is over there, jump in and warm up." I joined them. It's a long story. . . and many journeys. I think Z's first comment after he looked at me that first day was "oooh Peeta we are going to have to take you apart a leetle and put you bock together ,...but it is not hopeless."
It was not hopeless; I was full of hope, and after some hard work and lots of time, my physiology changed, my timing fell together and I started to "let the boat run." Now, when I visit, I often make the passage alone down the canal, through the Ala Moana harbor to the legendary and beautiful waters off of Diamond Head. But my real love of Hawaii is around the cages of that unassuming little canoe club -- those dedicated and beautiful kids, their coach riding a bike along the edge of the water yelling to them in a voice that sounds like a combination of Arnold Schwarzenegger and Clyde Aikau. I have not spent a night partying in Waikiki since. I have not wasted a morning again.